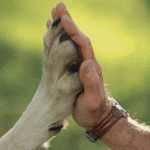 Do you need some tips on saving money on pet care? In today's economy, the expenses of owning a pet may seem overwhelming, but they don't have to be. There are 2 places where you should expect to pay what is required but I can give you some good ideas to save money in other ways.
The most important place to put your money is on pet food. Simply put: Buy the best quality food you can afford. Remember to read the labels, with emphasis on the first 4 ingredients. You want a good quality meat source or 2 in those first 4 ingredients. Be sure the food has no by-products, no corn of any kind, no artificial flavorings or preservatives. Then experiment to find your pet's favorite food.
It's difficult to find big savings on flea & tick and heartworm preventatives, but Walmart has a new product that touts itself as "the same as" the better know spot-on treatments. You may also find cheaper prices for Advantage products at petmeds.com. Just be sure to keep your pets protected from those ugly parasites.
Skip the bling. Your dog or cat doesn't care if its collar has jewels. Look for sales and basic leashes and collars. You can still find bright colors and pastels to brighten up your pet without spending a fortune.
Lower your veterinary costs by taking care of some of Fido's needs at home. You can learn how to trim his nails and ears yourself and you can brush his teeth. Ask your vet about vaccinations – which ones are necessary and which ones could be skipped a year. Your veterinarian should understand about your need to save money but will keep your pet's health in mind, as well.

Copyright secured by Digiprove © 2011