One day I woke to the rather nasty realization that I was headed down the other side of Life's mountain.  Tiny aches sprang up at an alarming pace while the bathroom became not only a haven but a necessity more often than I cared to admit.  It was about this time I met Scotty, a fifteen-year old mixed breed at the local Humane Shelter.
Like most people I went in to find that perfect young pet that played with wild abandon while being completely housebroken.  When our Scottish terrier passed away from cancer, our 9-year old Little Bit, a Shih Tzu/Cairn mix, was left alone if my daughter and I went out.  After a life of being mistreated prior to coming home with us, she wanted a companion at all times.
We found a possible in a miniature pinscher.  Alas, when he attempted to climb the lovely haunches of Little Bit, she let him know his life was literally on a short leash if he continued.
"Don't you have any other small dogs?"
The woman helping us sighed before replying, "The only little one we have is fifteen years old."
"Could we see it?  After all seniors need love, too," I told her, remembering how lonesome my senior years had become with the passing of my husband.  Happily surprised at my response, she hurried to bring the pup around.
He and Little Bit hit it off immediately.  I fell for him the moment he let us know to take him outside for a potty break.  Not only did we adopt him, I discovered that with the seniors there may be no charge at all and, in this case, we were provided with a leash, food for a month, and huge smiles all around from the workers at the shelter.
It's true that senior dogs and cats need love just as much as their younger counterparts.  We humans tend to think in all the wrong terms when it comes to an older pet.  We think medical, accidents in the home, dental, losing our pet all too soon due to age.
What we don't think of is the lives they've led to get to us.  Scotty came to the shelter horribly matted with hair grown over his eyes so badly no one knew he had tumors on the lids until he was shaved.  His teeth were rotted and infected.  His toenails had grown to the point of keeping him in constant pain.  Why was he turned in?  To make room for the misery of another pup the former owners wanted to adopt.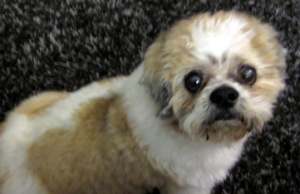 Scotty After His First Salon Visit
Our year with Scotty showed so much more I never considered.  He loved us immediately.  Although he was half blind and partially deaf, he found his way around the house amazingly well and discovered the front door, where he would stand to go outside. Despite efforts to keep him out of the pool, we had a house full of people for the holidays and in he slipped.  He swam like a champ.  Just as I jumped in to get him, he hit the steps and removed himself from his dilemma.  Both of us welcomed the warm towels.
In spite of losing six teeth after being turned over to the shelter, he crunched the mischief out of dry kibble before enjoying the treat of wet food.  Unable to go the distance on our walks, he demanded to travel under his own steam as long as he could before one of us had to pick him up and carry him the rest of the way.
That little dog taught me that like older people, older pets want to be needed.  That's when I decided that would be my goal – to adopt seniors.  To give them all the love and care they could possibly handle.  To make certain they got their senior checkups and shots at the vet.  To provide them with the best dog foods on the market.  Reading up on various brands in Feeding Fido and Fluffy helped with that decision.  How refreshing to have a source fingertips away to ensure the food health of my senior fur babies.
A year, almost to the day, after he came to live with us, Scotty failed to get out of bed one morning.  No matter how he struggled, his legs refused to hold him up.  I picked him up and carried him outside, holding him upright as he finished his constitutional.  Back inside I set his bed beside the sofa.
Little Bit joined him there and remained at his side all day.  I brought food for both because she wouldn't leave him.  We both knew those were his final hours and we wanted nothing more than to spend them with him.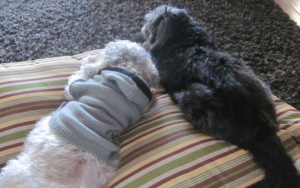 Scotty and Little Bit
The next day I learned a horrible lesson.  It was time for Little Bit to have her senior checkup as she had passed her tenth birthday.  I took both dogs with me to the vet.  While a vet assistant took Little Bit into one room, I went with Scotty to the other where we said our last good-byes.
Little Bit screamed, howled and cried from down the hallway.  I could not go to her yet; Scotty needed me.  I held him and talked soothingly while the doctor slid the needle into his leg.  The moment the light left Scotty's eyes, Little Bit's lamentations stopped as though cut with a knife.  She knew when he died.  She would have nothing to do with me for a week.  Never take another dog with you when one has to be euthanized.  They have a link that makes the passing of a friend painful – no matter what anyone may say.
We now have another senior, Chewy, that just turned thirteen.  Little Bit celebrated her eleventh birthday.  I wouldn't swap either for any puppy in the world.

Copyright secured by Digiprove © 2015