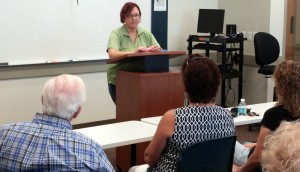 Melissa Bower of WoofGang Bakery & Grooming
Pet groomer, Melissa Bower, recently spoke to Suncoast Healthy Pets Meetup group and enlightened a room of pet owners about natural ways to groom and care for dogs and cats.
Melissa handles grooming services at Woof Gang Bakery & Grooming on Bee Ridge in Sarasota.
Following are some of the general pet tips Melissa shared:
Always use a shampoo designed for dogs and cats.
Never use baby shampoos on your dog.  It could contribute to skin problems.  Some brands even contain formaldehyde.
In an emergency when no proper dog shampoo is available, use Dawn Dishwashing Liquid.  It also kills fleas.
Add a little apple cider vinegar to your pet's shampoo.  It helps clear up bacteria.
When your dog comes in from the yard, clean his feet with a baby wipe to remove any lawn chemicals he may have picked up outside.
Add 40 drops of tea tree oil to 12 oz. or larger container of witch hazel to clean and clear up itchy ears.
2 drops of chamomile extract could help inflamed ears.  Of course, if the ear emits a foul odor or you see other signs of infection, contact your veterinarian for proper treatment.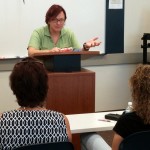 Melissa addressed a few other issues that concern many pet owners:
Obsessive paw chewing and licking could be caused by a food allergy or something in the dog's environment.  Look for products containing tea tree oil to apply to tender paws to sooth the itch and irritation.
If your dog suffers from anxiety from thunderstorms or separation from you or other factors, try a dropperful of chamomile extract in water to calm an anxious canine.
A training tool for pets that really grabbed our attention was the Pet Corrector.  It's sold in Sarasota pet stores, including WoofGang Bakery & Grooming on Bee Ridge and sells for about $11.  To stop a dog from unwanted barking, simply spray the Pet Corrector at him as soon as the barking begins, followed by a strong "No bark!"  The can emits a sharp burst of air with a loud noise.  With consistency, this technique should train the dog not to bark.
I'm looking forward to trying the Pet Corrector to train our Bulldog to stay out of the
kitchen, a feat that has been virtually impossible to attain unless we crate Maggie.  I'll let
you know if it works!
Suncoast Healthy Pets meets every Friday at 11:30 a.m. at ITT Tech on Cooper Creek Blvd., off University.  If you live in the area, you are welcome to attend.  We meet for an hour, share pet tips, problems and solutions.  Each week, we present a program on a pet-related subject.  It's free, casual and fun.  Join us if you can!
This group is sponsored by Seniors for Pets, People-4-PAWS, and PureZa for Life, a pet wellness company.

Copyright secured by Digiprove © 2014