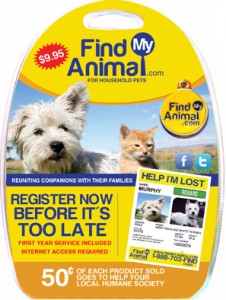 If your pet should become lost, would you be able to find it?  Is your pet micro-chipped or does it wear an identification tag?  If not, Seniors for Pets has the solution:  Purchase the new Find My Animal  ID tag that is worn on the animal's collar and know that should the worst happen, anyone finding your furry friend will be able to locate you just by calling the toll-free number listed on the tag.
We searched for a while before finding the right product to offer to our supporters as a fundraiser, and we researched this company before choosing this one.
The Find My Animal system is straightforward:  Purchase the tag on their website – http://www.findmyanimal.com/seniors-for-pets – for $9.95 (includes the tag and 1st year of service); log onto the company website listed in the package instructions and enter the necessary activation code and data about your pet.  Confirm the entry. PLEASE upload photos of your pet for easier identification.
The data you enter will be stored and if your dog or cat should ever become lost, you can contact Find My Animal and within minutes the system will distribute a "Lost Flyer" with information about your pet to you, and to all shelters and humane societies and participating veterinarians, and groomers in a 20-mile radius of where the pet was lost.
When someone finds your pet, they can call the number on the pet's I.D. tag attached to its collar, and you'll be efficiently reunited with your furry best friend.  It's easy to use, dependable and could mean the difference in finding your lost pet versus losing it forever.
A donation to Seniors for Pets, Inc. by Find My Animal will be made for each sale to assist service.  Please share with your friends.
To Our Pets Safety,
info@seniorsforpets.org

Copyright secured by Digiprove © 2011