Mark Stewart of Rock Island, Tennessee, knows the importance of pet ownership!  Dogs had always been part of his life until the death a few years ago of his Blue Heeler, Molly.
After an accident with a tractor 3 years ago resulted in amputation of part of one leg, along with nerve damage to his neck and hands, Mark was forced to spend most of his time at home.  Newlyweds, Mark and Donna, had agreed to not acquire anymore pets because she wasn't fond of them living in the house, and Mark refused to have a dog that couldn't be inside with them.
And then, two little angels appeared on their front porch.
Quickly dubbed Oreo and Ebony, the Border Collie – Chihuahua mix puppies were just what Mark needed as he recovered from his injuries.  After a visit to a local veterinarian for exams, vaccinations and spaying, Oreo and Ebony settled into their new home.
Mark built a large, fenced pen for the dogs with a doggie-door access to the screened back porch housing their beds and food and water.
The little dogs that Donna insisted would not live inside the house soon began sleeping on comfy beds in front of the living room fireplace.
Oreo and Ebony are devoted to each other and can't stand to be separated.  When Oreo is being bathed, Ebony becomes frantic and cries until they are reunited.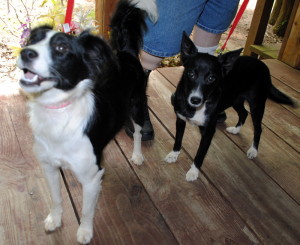 Donna loves the cute things the dogs do:  "Oreo is a people-dog and very sociable.  Ebony is the one who demands to be center of attention."
Donna fully recognizes the part that Ebony and Oreo have played in Mark's recovery.  "I appreciate the companionship the dogs provide for Mark when I'm not home."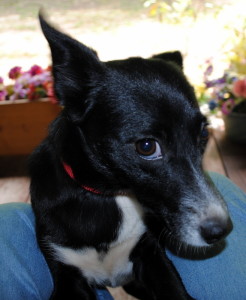 Being unable to work fulltime has been a difficult adjustment for a man used to activity and independence.  According to Mark, "The dogs give me a sense of purpose when I'm not doing my volunteer work."  (He volunteers at their church, keeping the grass cut, and he often helps his neighbors with their yards.).
I believe that God provides what we need.  Clearly, those puppies appeared on the Stewarts' doorstep at a time when they were exactly what Mark needed.

Copyright secured by Digiprove © 2013