Max is a 13-year-old Rat Terrier whose life has been somewhat difficult.  His previous owner kept him caged for 10-11 hours a day.  About a year ago, his neighbor persuaded the owner to give Max to him.  Unfortunately Max's new owner, who was just trying to save the little dog, wasn't really in a financial position to afford the veterinary bills.
When Max's face swelled and it was obvious that there was a serious problem Laura Abbott, a Seniors for Pets volunteer, called us to ask for help for Max and his owner, Michael.  Because SFP only deals with basic veterinary care and vaccinations, we contacted Fairytail Endings.  That wonderful organization paid for Max's surgery to remove a badly infected tooth and the medication needed for him to heal.
With that completed, Max only needed a full veterinary check-up and his vaccinations.  Seniors for Pets took care of that.  Laura once again offered her services to transport Max to Parkway Animal Hospital in Sarasota, where Dr. Gilberto Corona and his assistant, Danielle, gave the little dog a complete examination and all the vaccinations he so badly needed.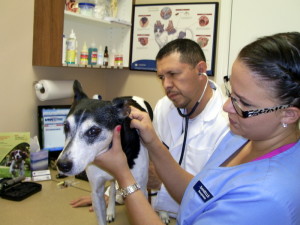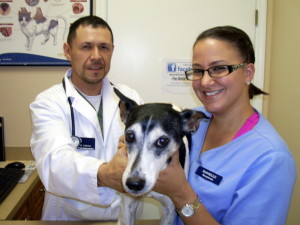 Seniors for Pets also provided him with heartworm preventative and will deliver flea and tick preventatives to him shortly.
Max is the perfect example of a Seniors for Pets client.  His owner loves him and wants to keep him.  Max definitely improves Michael's life just by being there as a companion.  Michael is disabled and cannot work and needs the love that the little dog provides.  We are so happy that our organization can help Max stay in his home.

Copyright secured by Digiprove © 2013