Mosquito season is here and in Florida, a monster mosquito, the gallinipper, is expected to wreak havoc on humans and pets alike.  This beast is aggressive and painful and about 20 times bigger than the average mosquito we are used to seeing, according to University of Florida researchers.  The male supposedly doesn't bite, but the female makes up for it.
Gallinipper eggs hatch after a rainstorm or flood and eggs laid last year are expected to produce a bumper crop of these nasty critters.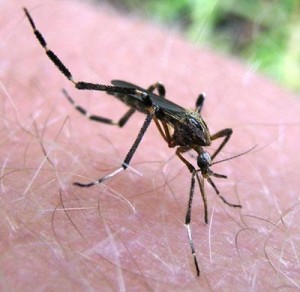 The Gallinipper – or psorophoro ciliate – is at least an inch long and actively goes after people.  The only good news about them is that they don't carry diseases like West Nile.
It's not yet known if insect repellants will provide protection from the gallinipper because they are so much larger than insects the repellants were created to deter.
The only good thing to say about these creatures is that they do eat smaller insects.  Be sure to clear away brush and standing water on your property and make sure your screens are all securely in place with no holes.

Get ready, Floridians, for the gallinipper invasion.  Protect your pets and yourselves.

Copyright secured by Digiprove © 2013