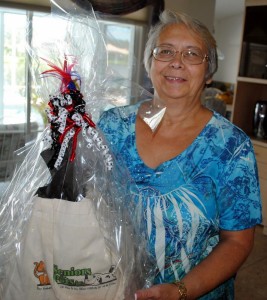 Maggie Digiovanni with Her Pet Gift Basket
When Maggie Digiovanni and her daughter Jaimie welcomed a pet gift basket from Seniors for Pets shortly after moving back to Sarasota from Pennsylvania, little did she know how it would change her life! She quickly became a much-loved volunteer and is now a board member. This lady is so full of ideas and creativity and works hard for our organization.
Maggie and Jaimie currently share their lives with 2 dogs, one of whom enjoyed the pet gift basket. Chewy joined the family after my visit. When the Digiovannis moved here, Good Boy, and adorable Scottie, still lived with them. Unfortunately, he passed away soon after.
Newly widowed, Maggie was starting over. It didn't take long for this busy lady to get involved in her neighborhood and church, along with Seniors for Pets.  Daughter Jaimie leads an active social life and Maggie spends a lot of time playing chauffeur.
Maggie is also a writer and had several stories and a book published in years past. This was great news to me and now, she and I publish a new website, www.frugalfloridaseniors.com, which is all about living in Southwest Florida on a budget.
Maggie's eyes light up when she talks about her beloved husband, Bruce, who she calls her best friend. "Even after 40 years, when he entered a room, my heart went pitty-pat." She lost her best friend a few days after their 45th anniversary.
Sarasota is fortunate that Maggie Digiovanni chose to return to this area, and Seniors for Pets is lucky to have her on our board of directiors.

Copyright secured by Digiprove © 2014