Seniors for Pets has many friends and supporters and for the first basket delivery under the new Destiny & Skylar logo, I thought it only fitting that it should go to one of the best: Jan Schneider of Sarasota. Jan began supporting our organization several years ago and is now a valued board member. I am delighted to introduce this well-known Sarasota attorney to everyone.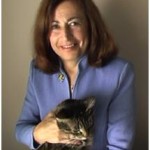 Jan Schneider & Victor
Jan graduated from Brown University with a B.A. in History, followed by a Master's in International Relations from Columbia University. She received her Ph.D. in Political Science and law degree from Yale.
Jan practiced law in Washington, DC, for about 30 years, specializing in International Litigation. During those years, she wasn't able to own a pet, because they weren't allowed in her condo building. The Schneider family had several dogs during Jan's childhood, and her beloved Toy Terrier, Prince, even accompanied her to law school.
A move to Sarasota provided her with the opportunity to once again share her life with a pet. Jan ran for Congress a few years ago and one rainy night as she approached the door of her campaign headquarters, she was greeted by a rain-soaked tabby kitten. She took "Victor" inside and the little stray became the campaign mascot.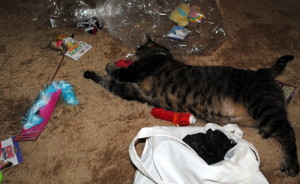 Victor High on Catnip
Victor has been a fixture ever since in the home Jan shares with her father, Harold Schneider, who turned 101 last November.  Victor was later joined by Sassy, who became Harold's pet. Then Jan brought home Birdie, whose owner had developed allergies to the kitty and wasn't able to keep her. Sassy has since passed away, and Jan recently adopted little Sara. Victor immediately claimed Sara as his own.
Victor loved the pet gift basket from Seniors for Pets and promptly dug into the catnip.
Jan believes that everyone should adopt cats, because they add so much life to a home. She had never owned cats before and now agrees she would not be without one.

Copyright secured by Digiprove © 2014