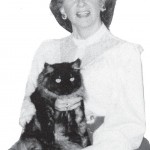 Recently, I delivered a pet gift basket to June Bowers, now of Sarasota.  June may be retired from her career as a Government photojournalist, but she fills her senior years with a multitude of activities that might intimidate younger people.
June's love of cats began as a young girl when she brought home strays, using a string to encourage them to follow her.  Years later, she volunteered with the Arlington Animal Shelter and helped create a shelter in Fairfax, VA.  June also bred and showed Grand Champion Maine Coon Cats until, as she worded it, her "number 1 queen became a stud."  I'll let you readers decipher that one.
As a member of several professional organizations in DC, including the National Press Club, June was welcomed at numerous White House functions where she mingled with the movers and shakers of Washington politics.  She added that Hilary Clinton was the best speaker she ever met and a very nice person, and that Rosalyn Carter and Pat Nixon were very warm and welcoming to their group.
June considers herself to be an excellent cook and won many culinary awards.  She was also a semi-finalist in the Pillsbury Bake-Off one year and was named to the "Ten Top Bakers in Virginia."
June became the first woman to join the Sarasota chapter of Toastmasters International and hosted her own local radio show, where she interviewed important local people.
In recent years, June wrote and published 4 books and currently teaches a Texas Hold 'Em class. She shares her busy life with 2 cats at present, both of whom she rescued.  The kitties enjoyed their gift basket of cat toys and treats from Seniors for Pets.