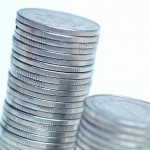 Last June, in a moment of insanity, I made an appointment with a medical practice in Ft. Myers that advertises a special kind of face lift. My 50th high school reunion was approaching, and I must have been feeling older than usual. At their office, I watched the clever marketing video and even more persuasive marketing person. When she told me that the "Lift" would set me back $6,500, my Florida tan must have immediately disappeared because she followed that with, "Oh, you must apply for CareCredit to help pay for it." I told her what I really wanted was to have my upper eyelids tightened. Since Medicare would pay for that issue, I made the appointment for that right away and scheduled the "Lift" for the following October.
I left the office, knowing my CareCredit card was on its way and it would help soften the blow when I had to tell Jim what I had done. After all, zero interest and 18 months to pay sounded pretty good. After the eyes were done and I returned to their office for a follow-up, I asked the tech about the "Lift" recovery and quickly decided that it would be a cold day you-know-where before I would spend a week trussed up like a mummy 23 hours a day in elastic bandages – all for the sake of vanity. I walked away from this with my eyelids "done" and my brain back where it belonged. And I had an unused CareCredit credit card in my wallet.
When my friend, Grace Snyder, told me  about using CareCredit for major veterinary bills for her late kitty, Angel, I realized that this little piece of plastic might have real value for anyone faced with sudden vet bills that they could pay over time but couldn't fund immediately.
With the economy in such dire straits, many pet owners are finding that paying for unexpected veterinary bills is beyond their means. This is especially difficult for seniors living on a fixed income. In the past few months, we have been approached by several seniors needing help to pay for surgery for their beloved dogs or cats. Seniors for Pets is not equipped to handle large veterinary bills, so all I could do was refer them to other groups in hopes that someone could help.
Last year Grace Snyder and her beloved cat, Angel, received a pet gift basket from Seniors for Pets.  Shortly after that visit, Angel became gravely ill, requiring expensive veterinary treatment.  Angel developed asthma and pneumonia, and her little body was unable to fight off the infection.  Grace made the difficult decision to end her suffering and was left with large medical bills for Angel's care.
Since Grace is a senior citizen living on a fixed income, she was concerned about paying this bill. Her solution – suggested by her veterinarian's staff – was CareCredit.
Accepted by over 140,000 providers, CareCredit touts itself as the nation's leading patient financing program. The company, a division of GE Capital, offers several promotional plans with no interest, if the balance is paid in full within the agreed-upon promotional period.
It is essentially a credit card that can be used for dentistry, veterinary medicine, vision correction, hearing care, and cosmetic treatments and surgery. CareCredit offers 2 basic payment plans:
Zero interest if the amount is paid in full within the promotional period of 6,12, or 18 months, or
14.9% APR and fixed monthly payments until the balance is paid in full.
The "catch" is that if you use the zero interest plan and fail to pay off the balance in the allotted time, you will have to pay finance charges on the entire amount of the loan.
To obtain more information about CareCredit, go to www.carecredit.com and follow the links therein. To be approved, one must fill out an online application and submit to a credit check. The program isn't for everyone, but Grace Snyder recommends it and is grateful she was able to take advantage of it.
Editor's note: Seniors for Pets does not endorse any business. The information is offered here to enable the reader to make informed choices.

Copyright secured by Digiprove © 2012