Jennifer Hummel has a soft spot for senior dogs. Perhaps it began when she was a teenager or even earlier, but she remembers always wanting to help the older dogs that owners and society seem to "forget."
"People teach their children that if something breaks or gets old, just get rid of it instead of fixing it and unfortunately, that sometimes extends to pets. They should remember that they too, will grow old one day."
Vintage Paws, a 501(c)3 non-profit, provides a sanctuary for those unwanted senior dogs to live out their lives with dignity and surrounded by love. The organization was founded in 2012 and is funded entirely by donations. Jennifer is the owner manager of Ace Pet Resort, and the serene setting of that property made it possible for her to create Vintage Paws.
Touring the property, I could only marvel at the opportunities afforded to the abandoned senior dogs by sharing Ace Pet Resort's location. All the dogs, residents and boarders, have access to large outdoor, fenced play areas, separated for large and small animals, as well as indoor rooms for the little ones.
In one room, several small dogs played or slept on soft beds. In a corner rocker sat an ACE Team Member, cuddling a little one in her lap. Jennifer told me that a staff member is always stationed in that room when the dogs are present. Both boarders and rescues enjoyed each other's company and the opportunity to be cuddled and loved.
Every office had at least a couple of occupied dog beds.  All of the animals had a person close by.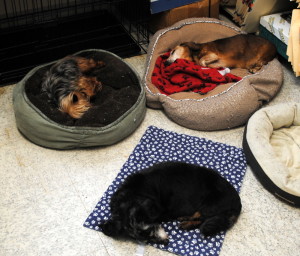 Volunteers and staff at the facility spend time each day walking dogs on leash, petting and cuddling or brushing them. All dogs receive plenty of attention and all animals are touched or petted whenever someone is nearby.
Careful records are kept of each dog's daily activities, potty habits, what they eat, etc. I was impressed with the way the animals are treated and the amount of affection they receive. One particular senior rescue caught my eye.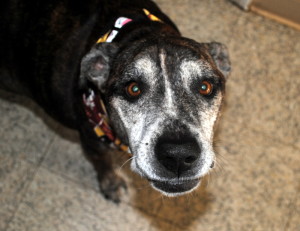 Belle
Belle's owner was arrested and she was rescued by Satchel's Last Resort where she was treated for a mast cell tumor on her back. Shortly after surgery, Vintage Paws took her into their program. She has since remained cancer-free. Belle is an eleven-year-old Pittie-mix and the sweetest girl!
Before Vintage Paws accepts a senior dog to rescue, the person surrendering the animal must complete an application form and submit a photo of the animal. If the dog will co-exist with other dogs and space is available, then Vintage Paws will take the animal.
If it is decided that the dog's energy level won't fit with the other animals, Vintage Paws will still try to help by sharing the animal's need for a home or rescue on social media outlets.
The first order of business when a dog is surrendered to Vintage Paw
s is to fix any health issues. Blood work is done; dental problems are taken care of. Area veterinarians in all specialties will work with the organization to repair any medical needs so that the animal can live out its life in comfort and free of pain.
To date, Vintage Paws has saved over 60 senior dogs from certain euthanization and have adopted out more than 20 of those.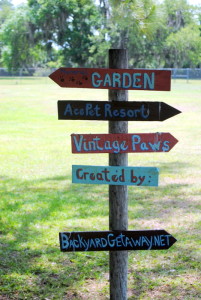 Vintage Paws offers a service to the community that is unequaled. I am so glad I was able to visit and see firsthand how fortunate the senior animals they take in are in the care of this fine organization.

Copyright secured by Digiprove © 2014