Beverly and Ken North of Kansas (no relation to this writer) recently lost their beloved cat, Skeezix.  According to Beverly, "Skeezix was a wonderful example of how special a rescued pet can become."
Below is a goodbye letter that Beverly wrote to Skeezix and read to him as he left his world.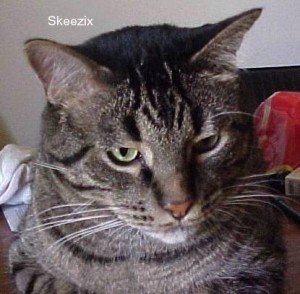 In Memory of Skeezix
Dear Skeezix,
It's time to say "good bye."
It's been the best 8 years of my life.
You've been there for me in my times of need.
But, the time has come that I must let go of my wonderful friend, Skeezix.
I don't want to let you go.
I need you as much as you needed me 8 years ago.
You have paid me back a thousand fold for saving your life.
Now, you are ill and there is nothing I can do to make you feel better.
You have given me so much love and comfort.
I wish I could find a way to comfort you in your time of need.
I love you so much——more than any cat who has ever lived with me.
You can never be replaced and I don't intend to try.
I can't stand to see you suffer.
The choice I am making for you will give you the peace you deserve.
I will miss you more then you can ever imagine.
My only hope is that someday we will see each other once again.
Good-bye my beloved friend.

Copyright secured by Digiprove © 2013