Losing a pet is hard!  While time does help ease the pain of loss, nothing helps those little aches that appear when the loss is fresh, when you remember the daily activities you shared with your furry friend.  Grieving takes you on a journey that leads from pain to good memories.  Those memories help soothe the raw feelings at the time of the animal's passing and help sustain us as we deal with life without our pets.
Jan Schneider lost her beloved cat, Sassy, yesterday.  Sassy hadn't been well for some time, but her death was unexpected.  Sassy shared Jan's bed each night.  Victor, Jan's other cat, is also grieving.  He was devoted to Sassy.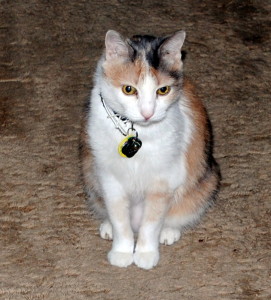 In Memory of Sassy
"I did not sleep at all last night without Sassy. She slept on my bed every night  Victor howled much of the night and day," said Jan.  "I placed a stuffed bear on the bed where Sassy slept.  It seems to help Victor."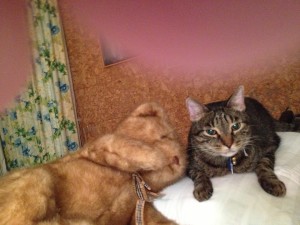 Victor mourns the loss of his friend, Sassy
Ken and Beverly North of Kansas (no relation to this writer) lost their cat, Skeezix, on Oct. 1.  "Skeezix came to live with us in 2005," said Beverly.  "I kept a bucket of fresh water on the front porch because, it being a typical Kansas summer, water was in short supply.  It took a couple of weeks to convince the cat to allow me to pet him."
"He began sleeping on a towel I placed in a wagon on the porch.  Eventually, he began eating meals inside the house."
The Norths had Skeezix neutered and his urinary tract infection treated and the boy became a permanent member of their family. "We knew he was a special cat but that was solidified when the big tornado went through Greensburg, KS, and totally wiped out the town.  It moved northeast and missed us by 25 miles to the West.  Skeezix woke us up that night with the most blood-curdling howl I've ever heard from a cat.  We knew something was wrong and turned on the television to learn about the storm.  Skeezix was trying to warn us that something wasn't right."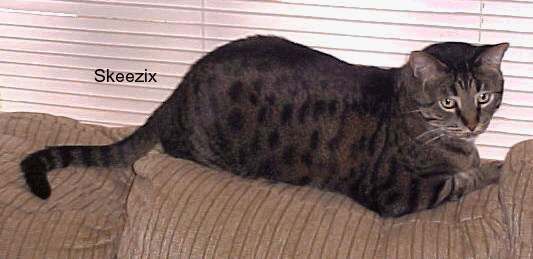 "Skeezix was protective of us.  He inspected anyone who entered our house.  I don't know what would have happened had anyone ever tried to hurt us, but I believe our cat would have attacked."
The North's kitty was indeed a special boy, and his bond with Ken and Beverly makes losing him extremely painful.  But they do have wonderful memories to hold forever.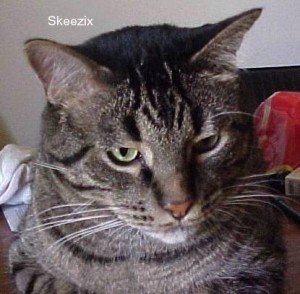 In Memory of Skeezix
If you lose a pet, give yourself time to grieve.  Cherish the memories of the good times you shared.

Copyright secured by Digiprove © 2013