When my children were young, I focused my less-than-stellar photographic efforts upon them.  Then came grandkids and  I'm sure they cringed when they saw Ganny heading their way with camera in hand.
Now with only one grandson close enough to be the object of my photo affections, I have turned my camera toward my dogs and cats.  Maggie, the bulldog, loves to mug for the camera and even tolerates being dressed in costumes.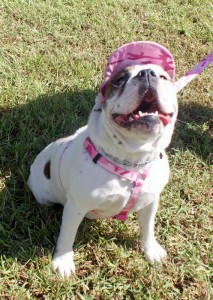 Gator would prefer not to be bothered at all.  Chico heads for my closet when he sees the camera in my hand, because he's terrified of the flash, but little Lucy will pose proudly.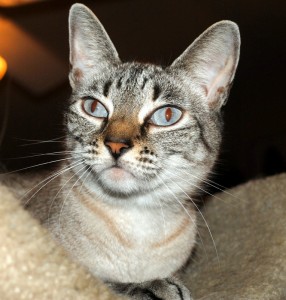 Lucy
Over the years, I have learned a lot of do's and don'ts when photographing pets, but I still am far from an expert.  Today, I shoot with a Nikon D3000.  Digital cameras are easy to use and with numerous editing software programs available, you can't go wrong.
I won't get into F-stops and light metering here.  If you want to become technically-knowledgeable, take a photography class.  The following tips will get you started on the path to good photos of your pets.
Equipment.  A decent camera is a must.  It doesn't have to be expensive, but you should consider the type of photography you plan to do.  If you want to shoot your dog in an active moment, such as jumping in the air after a ball, invest in a camera with a motion setting in order to achieve more stable shots.  Distance shots may require a telephoto lens to get the needed results.  Since most pet photos are close-ups, you can shoot acceptable pictures with just a point-and-shoot camera.
Camera manufacturers offer a myriad of accessories but really, not many are necessary.  A built-in flash system provides options for low-light conditions.  A tripod will eliminate camera shake that often results in blurring.
With my first digital camera – a Kodak point-and-shoot – I used Kodak software to edit my photos.  With a big step up to my Nikon, I continued to use the Kodak software, because it was easier than the Nikon software editing system.  But Kodak went out of business, and I was forced to use the Nikon program.  Today, I combine that with Picasa, a free download system to my computer.  It's easy to use and offers good organization of your photos and all the editing options an amateur might need.  If your camera will download directly to Picasa, you can eliminate any other software.  I have a point-and-shoot, no-name camera that dumps the photos right into Picasa.  Wish my Nikon would do that.
Lighting and focus.  When possible, always shoot without flash.  With animals as with humans, flash photography tends to create "red eyes."  Natural light gives better results.  Focus on the pet's eyes when you are shooting.  They say the eyes are the window to the soul and a photo that focuses on the eyes will go a long way toward bringing out the subject's personality.
Settings and background.  A natural setting works best, because it provides strong light.  Watch out for clutter in the background.  You don't want to see a tree growing out of your dog's head.  Coordinate the colors of the background to the color of your pet.  For instance, don't photograph a white cat or dog on a white carpet or sofa.  It won't give enough contrast between the two.
Enlist an assistant.  To get a good shot, extra hands help.  Your assistant can tempt your pet with toys and treats to get its attention, while you concentrate on taking the perfect photo.
Practice makes perfect.  The joy of digital photography is in instant gratification.  You can download your work to your computer and quickly see if the photos are good or need work.  This allows you to get right back to work and correct your mistakes.
Experiment with action shots.  Have your assistant throw a Frisbee in the air for your dog  or dangle a feathered "fishing pole" above your kitty's head.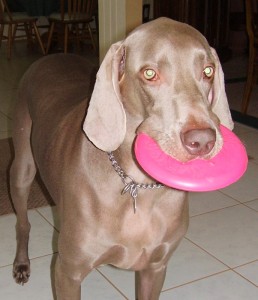 Get down on the ground to your pet's eye level to photograph him.  It will give new perspective to your photos.  Add props!  Fido's favorite stuffed animals or Fluffy's catnip toys add another dimension to your work.
Shoot from different angles.  A photo looking up at a dog could be interesting.
Share your photos.  Your friends on Facebook and Pinterest will enjoy seeing your fur-kids.  You can include them in holiday greeting cards, on keychains or on calendars.  The ideas are endless, and the cost is low to get started.

Copyright secured by Digiprove © 2012