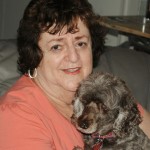 Coco came to Roz in an unusual manner.  Coco's owner asked Roz to care for her pet while she was out of town.  The woman became ill and was hospitalized.  When she returned 3 weeks later, Roz and Coco had bonded, and the little dog wasn't going anywhere.
Coco is a special little girl.  She adores Roz's toddler granddaughter.  Sadie loves to "read" to Coco and the dog clearly enjoys.
Roz is a funeral coordinator in Sarasota and also volunteers at a local hospital.  "I enjoy seeing the therapy dogs come in to the hospital with their owners to visit and cheer up patients," she said.
"I think older people should get older dogs.  Older dogs are easier to care for and are often more difficult to place in adoptive homes," she added.  Seniors for Pets agrees that if more senior citizens would adopt older pets, more animal lives would be saved, as well as improving the lives of the new pet owners.
Seniors for Pets was delighted to deliver a pet gift basket to Roz and Coco

Copyright secured by Digiprove © 2012