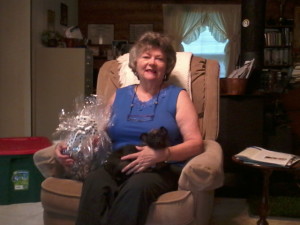 It isn't easy to write about someone who has been as close as a sister since we were nervous 12-year-olds entering junior high school.  But last year, Carole Bishop MacIntyre acquired a new pet and deserves a gift basket for Gizmo.
Carole was raised in Nashville and graduated from West End High School.  She studied dance for years and was a contestant in the Miss Nashville-Davidson County Pageant in 1961, sponsored by the Woodbine Jaycees.  After attending Draughn's Business College, she married and produced two beautiful daughters.
Carole spent much of her business career in the Surgical Pathology Lab at Vanderbilt University Medical Center in Nashville and in 2004, she helped open the Pathology Lab at Children's Hospital.
In 1991 in her role as Grand Officer of the Eastern Star for the State of Tennessee, Carole traveled statewide and to Europe, visiting Switzerland, Italy, Germany, France and Lichtenstein.  This busy lady is active in her church as a Sunday School teacher and Bible Moderator.  She represented her church at a Montreat, NC, conference to implement new practices within the church and is ordained as an elder in the Presbyterian Church.
In the years following a divorce, Carole met the love of her life, Ron MacIntyre.  They enjoyed 8 years as husband and wife before he passed away in 2009.  Carole and Ron owned 2 cats together that lived to 18 and 19 years old.
Now Gizmo, a 3-year-old Chinese Crested – Yorkie mix, shares her life.  Gizmo's previous owner moved to a nursing home and her family didn't want the little dog.  A friend placed him with Carole.  Gizmo was terrified at first and took quite some time to adjust to his new life.
Today, Gizmo and Carole are great companions.  "He's always happy to see me," she said.  "Gizmo kept me from being so lonely after Ron died.  He's also a good watchdog."
Carole MacIntyre understands the importance of pets in the lives of senior citizens, and little Gizmo has certainly become an important part of hers.  I must add that Carole is one of the kindest and nicest people I have ever known, and I know that Gizmo is a lucky little boy to share his life with her.

Copyright secured by Digiprove © 2013