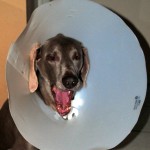 Critical Care Veterinary Specialists of Sarasota published some excellent tips for caring for your pet in the event of a medical emergency.  Here is what to do if your pet has one of the following problems:
Vomiting.  If you suspect your pet has ingested any kind of toxin, call the Animal Control Center at once – 888-426-4455.  Or call or go directly to your local emergency veterinary clinic for help.
Fracture.  Muzzle your pet and splint the leg, or strap it to a board and seek emergency help at once.
Heat stroke.  Wrap the animal with a cool, wet towel.  Do NOT use ice.  See a vet at once.
Bleeding.  Muzzle your pet and apply pressure to the wound.  If the bleeding is from a leg, bandage the wound and apply a tourniquet just above the wound.  Go at once to your veterinarian or emergency clinic.
Choking.  If the animal will allow it, prop its mouth open with something.  Then try to pull out the object that is causing the choking.  If the pet is not conscious, use a quick, firm pressure on the animal's chest to push the item out.  With a cat or small dog, hold it upside down, holding the back legs and firmly tap its chest to help dislodge the object choking the animal.
Breathing.  Use rapid pressure on the chest right behind the elbow to massage the heart.  Or use mouth-to-mouth on the animal.  See the veterinarian at once.
Seizure.  Use an ice pack on the animal's head.  Do not reach in or around the mouth or it may bite you.  Call your veterinarian or go to the vet or emergency clinic.  Talk to your pet and try to keep it aware and conscious.
These are all excellent suggestions for emergency measures when a dog or cat has a medical problem.  If you live in the Sarasota, Florida, area, Critical Care & Veterinary Specialists offers 24-hour emergency veterinary care, as well as animal neurological, ophthalmology, cardiology and animal rehabilitation services.
(These tips printed with permission from Critical Care & Veterinary Specialists via Dr. Anne Chauvet)

Copyright secured by Digiprove © 2013