What a great day!  Seniors for Pets hosted a booth at Sarasota's EcoFest today on Main Street.  So many people showed up to browse the offerings in the many booths!  We sold collar bandanas for dogs and even sold one for a cat.  Also on our table were crate pads or pet beds and cat and dog toys and shoppers generously purchased these goodies for their own furry friends.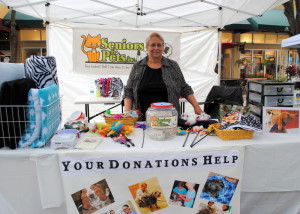 Maggie Digiovanni Welcomes Visitors to the Seniors for Pets Tent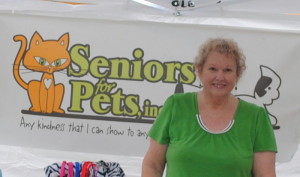 Carol North, President of Senior for Pets at EcoFest
Many thanks to volunteer, Maggie Digiovanni, who arrived early and helped us set up the tent and the tables.  Maggie talked to all the visitors who stopped by and encouraged  donations.
We were fortunate to be located right in front of a coffee shop with delicious pastries and lattes to help keep us warm as the temperatures dropped in the afternoon.  Thank you to everyone who stopped by and shopped with us or donated to our mission.

Jim North at the Seniors for Pets Booth

Copyright secured by Digiprove © 2014