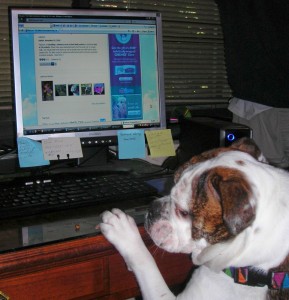 Many of you – as I – enjoy spending time on social networks such as Facebook or My Space. These Internet sites have given us a unique opportunity for sharing online time with our families and friend and those sites, along with Twitter, Linked-in and others, even provide business links with their members. The social networks serve many purposes, but did you know that our pets have sites just for them? Since pet owners spend over $40 billion a year on their furry friends, it shouldn't be surprising to learn that they have gravitated to online sites dedicated to pets.
Your precious pup can become a social networking genius with your help. Most pet networking sites offer forums to chat about pets, and they will likely provide a user-friendly method to upload photos and videos of your dog or cat. Some offer the opportunity to create a blog where you can share stories with other pet lovers. You and your pet will meet others with common interests, find informative, educational advice on subjects related to pet care, travel or where to find a good pet sitter in your area.
Two of the best known sites for pets and their owners are dogster.com and catster.com. Dogster has it all. Along with the afore-mentioned possibilities, this site presents a vet blog with a wealth of articles about the health and welfare of dogs. You will find an adoption page and a page for animal shelters.
I particularly like lovemypet.com, which offers interesting articles, friend networking and rescue groups. In operations since 1997, this is one of the older sites and bills itself as "the place for people who love pets…to swap stories, meet people and have fun." At fuzzster.com, "Fuzzy people can meet other fuzzy pets and their owners." Share your cat stories with the world and enter contests, write on blogs, and forums.
Judging by the popularity of social networking, it appears that this online phenomenon will be around awhile so if you want to share information about your favorite cat or dog with other pet-loving people, surf the Internet and find a pet networking site that works best for you. You never know who you will meet online.

Copyright secured by Digiprove © 2011