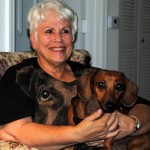 Carole's life has been a series of ups and downs.  Her first marriage ended in divorce and her second husband abused her.  Life began looking up again when she remarried her first husband, Tom, after 37 years apart.  That second marriage took place in Laishley Park in Punta Gorda, Florida.  They shared their lives with several beloved dogs.  Then Tom died.
Once again, Carole's world fell apart.  She lost her home and had to find homes for all the dogs but one.  That little dog, Coco, was Tom's dog and he is now her constant companion.  Carole has moved on with her life but finds life challenging and lonely.
"Coco has been my lifesaver," said Carole, referring to the difficult times she has faced.  Seniors for Pets was delighted to brighten their day with a pet gift basket.