On the day before Easter, Jim and I visited a mobile home park in Sarasota to help a precious Cavalier King Charles Spaniel and her owner.  Seniors for Pets friend, Laura Abbott, contacted us when she realized the dog's owner wasn't able to take care of the situation by herself.  Chica was covered in fleas and flea bites and scratched herself incessantly.  She was a miserable little dog.
Also working with us to correct this problem was Diane Palmer-ponleit, who operates Groomingdale's in Sarasota.  Diane has followed our organization for more than three years and had previously offered her grooming expertise anytime we needed it.  Chica presented the opportunity to take her up on that offer.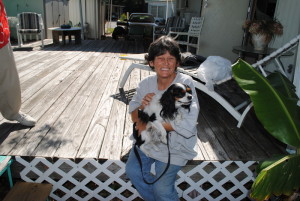 Diane picked up the little dog and bathed and groomed her at her shop before returning her to her elderly owner.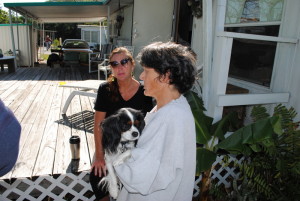 Watching Diane with little Chica was heartwarming.  She is so kind and gentle with her clients!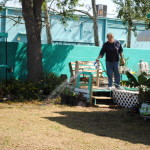 While Diane worked her magic on Chica, Jim set off flea bombs in the owner's home and also sprayed the yard with a flea & tick killer.  Chica and her owner were able to return to a flea-free environment.  Later, Chica will receive her vaccinations and a full medical examination from a local veterinarian.
Seniors for Pets is so grateful to Diane Palmer-ponleit for her donation of services to help Chica.  If you live in the Sarasota area and need someone special to groom your pet, I highly recommend Groomingdale's.
Kudos also go to Laura Abbott, who saw a need and stepped up to find a solution.  When you see an animal in jeopardy, please don't look the other way.  People are usually willing to help but someone must take that first step.  If you know of a Southwest Florida senior citizen whose pet needs help, call or email Seniors for Pets.
This project – to help Chica and her owner – exemplifies how your donations are spent.  There are many more seniors and their pets who need our assistance, but it takes money.
Your donations are needed and very much appreciated!
Seniors for Pets, Inc % C.North
6570 Anchor Loop, #108
Bradenton, FL 34212

Copyright secured by Digiprove © 2013