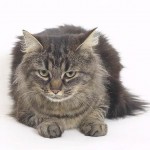 Do you pay attention to your cat's carbon paw print? In fact, is your own carbon foot print in your home providing a safe environment for your furry feline? With a few steps, you and your cat can live a healthier existence and also improve the world around you.
Begin with the litter box. Did you know that approximately 8 billion pounds of cat litter ends up in landfills each year? (American Bureau of Waste Management) If you can switch your kitty to a more ecologically-friendly litter – such as pine or newspaper – you can be part of the solution. Natural litters made from corn or wheat are also good choices.
Before switching litter, remember that cats tend to be very picky about their litter and if they are unhappy, they may display some unpleasant behavior. Transition very slowly, gradually increasing a new litter and decreasing the old one. The process can take several months with some cats. Some cats never adjust to the change, but it might be worth a try before giving up. Just recognize when you have done all you can and accept that your cat rules.
Are your cleaning agents safe for your pets? We keep our cats' litter boxes on the screened lanai and because cats are messy, the painted concrete floor must be cleaned frequently. We use a mild bleach solution and rinse it thoroughly. Baking soda and warm water make a safe solution that cleans pretty well. Vinegar mixed with water works well on cat urine stains on carpets. Whatever cleaning method you use, be sure it is safe for both your pets and the environment.
Cat toys should be examined for safety. Be sure there are no loose strings that a cat could swallow. Strings can wrap around the intestines. Read labels before purchasing toys for your kitty. You want to avoid lead or any ingredient that might harm your pet.  Consider making your own cat toys out of cotton or some other natural fabric.  Our cats love their homemade catnip logs and carry them around the house in their teeth.  Your pet will have fun, and natural fabrics are far better for the planet than plastic.  You can find unique cat toys made of natural fabrics here.
With a little effort and education, you can create an eco-friendly environment that will improve the carbon footprints of both you and your cat.

Copyright secured by Digiprove © 2012