Newsletter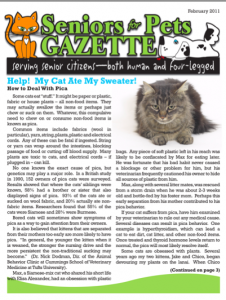 Seniors for Pets produces a first class monthly e-newsletter.  Each issue contains a mix of health and medical information about dogs and cats, heartwarming animal-related stories from a variety of writers, and the occasional piece of animal-related fiction.  We always include a dog and cat that need homes and information about the activities of our organization.
A subscription to this 8-page gem is our gift to you! Download a recent copy with our compliments!
Complete the information below and you'll begin receiving "The Seniors for Pets Gazette" around the middle of each month via your email address.
This publication is geared to readers of all ages – not just seniors.
Comments or questions are welcome.